5 Inch Capacitive Touch Screen
KSh8,500.00
This 5 Inch IPS touch display is an ideal smaller and cheaper alternative to the Official Raspberry Pi touch display. IPS displays are known for their faster response times, wider viewing angles, better color/contrast compared to other displays and outstanding color accuracy and screen consistency. This is also capacitive and thus offers a higher touch sensitivity, multi-touch capabilities, higher visibility outdoors and are more durable compared to their resistive counterparts. Developed with quality and reliability in mind, this display is compatible with most Raspberry Pi boards including the Pi 4B and 3B+. It securely latches on the Raspberry Pi's GPIO pins for touch interface. For display interface it connects to the Raspberry through a standard HDMI Cable and as such can be used as main and/or secondary display for the same. For brightness adjustment, it also comes with a physical button which adjusts the builtin backlight. As a BONUS this display works with not just any operating system without the need for special drivers, but it also works with a multitude of other electronic devices including other Single Board Computers, IoT devices and PCs.
2 in stock
Description
Features and Specifications
5″ capacitive standard touch screen display,
Support 5 point touch
IPS full viewing angle display
800×480 resolution,
Maximum HDMI resolution 1920X1080 is supported
Up to 178° full viewing angle panel
Support Raspberry Pi back-to-back direct installation and locking
Plug-and-play driver-free.
Equipped with a 60° bracket, easy to install, simple and practical, and a vertical display in seconds
Built-in OSD menu adjustment function (adjustable Contrast/ Brightness/Saturation, etc.)
Support HDMI audio output
For setup see here
Active Area: 108.00*64.80 (mm)
Dimensions: 121.11*95.24 (mm)
Power Dissipation: 0.30A*5V
Packing List:

1 x 5 Inch hdmi Touch Screen (with install screws)
1 x hdmi Cable (31.5cm/12.40inch)
1 x USB Cable(42.5cm/16.73inch)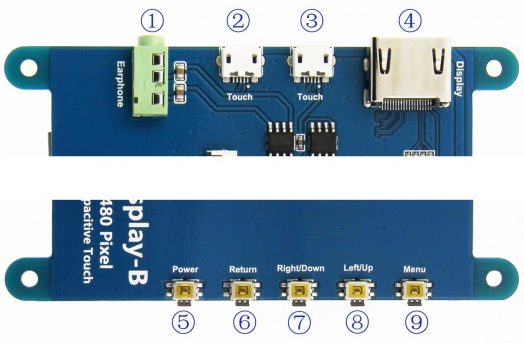 ① Earphone: 3.5mm Audio output interface
②&③ Touch: USB connector ( For power supply and touch output, the functions of the both are the same, can just use one of them)
④ Display: HDMI interface ( For connecting motherboard and LCD monitor)
⑤ Power: Turn on or off display and backlight to save power consumption
⑥ Return: Return (Only valid in the OSD Settings menu)
⑦ Right/Down: Direction Right/Down (Backlight shortcut key)
⑧ Left/Up: Direction Left/Up (Backlight shortcut key)
⑨ Menu: Open the OSD / Select key (Only valid in the OSD Settings menu)
Only logged in customers who have purchased this product may leave a review.